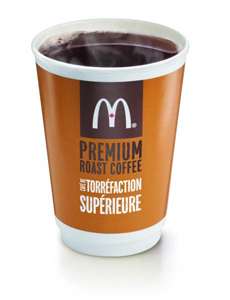 If you live in the Eastern United States – from Maine to Miami, participating McDonald's are giving away a FREE Coffee through September 29th!
McDonald's owners in Southeastern Virginia and Northeast North Carolina are doing more than giving away Free Coffee, they are giving back to their charity of choice Ronald McDonald House Charities of Norfolk. RMHC Norfolk will receive a donation for every cup of coffee that leaves local McDonald's restaurants over the course of the week. Customers are encouraged to stop by their neighborhood McDonald's not only for free coffee, but to help a great charity.
Coffee isn't just for breakfast anymore, according to recent findings by the National Coffee Association. Daily coffee consumption soared by seven percentage points in 2011, moving coffee solidly ahead of soft drinks, according to the 2012 National Coffee Drinking Trends report. Free Coffee will be available all day during each restaurant's Hours of Operation.
A Week of Small Free Premium Roast Coffee at McDonald's is happening at participating restaurants across the Eastern United States – from Maine to Miami.  McDonald's Premium Roast Coffee is made with 100% Arabica Beans.
*Please make sure your location is participating before heading out!
Don't forget about FREE Large Coffee at 7-Eleven and a FREE 12 oz cup of coffee at Krispy Kreme
Thanks, A Frugal Chick!