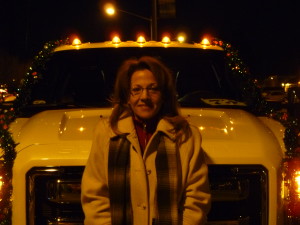 I'm sure you all have seen Melissa's name pop on deal posts and recipes over the past several months.  Melissa has been helping here at The Coupon Challenge since 2011.  She took on more roles in late 2012 sharing the great deals she finds, her shopping trips, tasty recipes and more.  Please officially welcome her and feel free to reach out to her with comments or deals at melissa @ thecouponchallenge . com  (remove spaces)
Hi! My name is Melissa. I grew up in Virginia Beach and now live in Hampton, Va. I'm a Navy Brat and moved to Virginia Beach when I was 7 years old so I proudly call Hampton Roads home. I am a mother of 3 wonderful kids, Danielle, Cole and Mikey. These days it is just John (the love of my life & best friend) and I at home with our kitty cat Kathy. John is an Army Veteran, Tanker, and I am a Disabled Navy Veteran and yes I miss it so very much! :o) I was an FMF (Combat) Corpsman, EMT/ EVOC, Pharmacy Technician and even served time with the Marines. HooRah!
I have always couponed, even as a child with my mom, but not the strategic way that I do now. I would make a list, find coupons for items that were on my list and then proceed to shop and spend way to much on groceries for the family. I came across "strategic" couponing a couple of years ago while I was in the hospital. I was flipping through the TV channels one night and came across "THAT" show. Yes, you know which one that I am talking about. :o) And no, I no longer watch "That" show. So anyway, I was discharged from the hospital and I went home and eagerly started researching on the internet everything that I could about this type of couponing. That is how I came upon "The Coupon Challenge" and fell in love instantly. Especially with the Farm Fresh Matchups! I was so happy to find a website that was local with deals specific to this area. Soon after, I quickly realized that the show was a farce, but yes you can save LOTS of money and even get items for free doing it the "right" way. I was hooked to couponing immediately! It became my obsession and a game of sorts. How much could I buy for the least amount of money?
I loved saving money so much that I was more than happy to share my knowledge with family and friends. They were soon calling me the "Coupon Queen." :o) At one time, I had even taught couponing classes. Everyone wanted to know how I did it so I typed up all that knowledge that I had in my head about couponing and put together folders for each person to take home with them. In the beginning, it is a lot of information to take in and remember, so having it on paper helps. With time, you find what works best for you and it becomes second nature. I find that I am still learning new things to this day.
I have been doing this for over two and a half years now and I am just as excited today as I was on that first shopping trip. I still come home and brag about my savings, what I got free and even made money on! I truly enjoy working with Dana on "The Coupon Challenge" and share her passion for savings and sharing it with others. I look forward to sharing money saving tips, deals, coupons, recipes, and so much more with you!