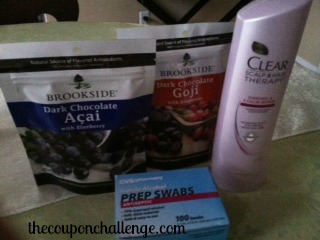 Melissa's CVS Shopping Trip!!!  Only $.33 + $1.25 Ibotta Deposit!!!
Here's the Money Making trip that I had yesterday at CVS!!
(1) Clear Shampoo, $4.99
Use $4.99/1 CVS Coupon Center Coupon you just got from the machine
Pay: FREE
Submit for $1.25 Ibotta Rebate by scanning your receipt!
Final Price: $1.25 Money Maker after rebate!
(2) Brookside Pouche 7 oz. – 2/$6
USE (2) $2.50/1 CVS store coupon found here
AND (1) $1/1 Brookside Smooth Dark Chocolate Covered Real Fruit Juice Pieces  NLA or in the 2/24 SS
PAY: FREE
(1) Box CVS Sterile Alcohol Prep Swabs 100 ct.  (I found the 100 ct by the Diabetes supplies)
Use (1) FREE box of Sterile Alcohol Prep Swabs ($2.59 value)
Pay: FREE
Pay: $.33 Tax OOP
When I got home I submitted for the $1.25 Ibotta rebate for the Clear Shampoo.   It was deposited into my account in 30 minutes!!  So easy and fast to use!!  Learn more about the IBOTTA APP HERE.