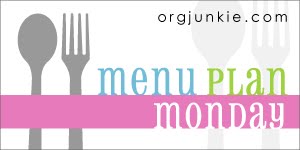 The kiddos start back at school tomorrow, so I'm hoping to get back on a normal schedule.  I added a shopping list to the bottom of what I need to make this weeks meals.  Everything else I have in my stockpile.  I'm hoping this helps show how purchasing what's on sale can make meal planning easier and save money.
Monday
Teriyaki marinaded chicken on grill with carrots and rice
Tuesday
Lasagna with bread from bread machine & salad
Wednesday
Turkey Pita bread sandwiches with soup
Thursday
Leftovers
Friday
Turkey Burgers with fries
Saturday
Crock pot chicken with potatoes and a fresh veggie from Wednesday sales
Sunday
Hubby's choice
My shopping list for dinners:
Lettuce
Mushrooms
Pita bread
Fresh veggie for Sat.
This post is shared on Org Junkie