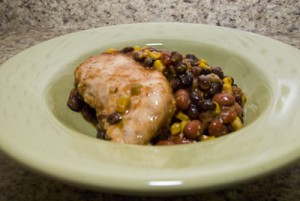 Mexican Chicken
by Sharon from Mom On Dealz!
**I've personally made this recipe and it's so easy and delicious!  We serve over rice and even use the leftovers (chicken shredded) for burritos.
Ingredients:
 1 package of chicken breasts (about 1.5 pounds)
2 cans of black beans, rinsed and drained
1 can corn, drained
1 small jar of salsa (I use a large jar)
Directions:
 Lay chicken breasts in the slow cooker.
Combine all other ingredients and pour over chicken.
Cook on low for 6-8 hours or high 4 hours.
Serve over rice or inside of a tortilla.
Thanks, Mom On Dealz!