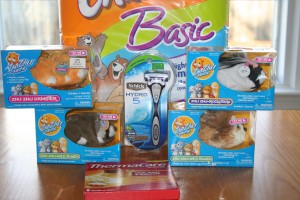 I ran to CVS early on Sunday to get the Zhu-Zhu Pet deal.  Life has been so crazy this week that I didn't get my trip posted for you.  After sale & coupon, I paid $9.98 for 4 zhu-zhu pets!!!
CVS coupon matchups good through tomorrow.
4 Zhu-Zhu pets
1 Charmin Basic
1 ThermaCare Heat Wrap
1 Schick Hydro Razor
– B2G1 CVS coupon for Zhu-zhu pet
-$1/1 charmin coupon
-$1/1 thermacare coupon
-Free schick hydro coupon from home mailer
-$15.35 ECB's
Total Paid $0.23
Total Saved $62.58
Earned $7.79 ECB's ($4 Schick, $2.79 thermacare, $1 green bag tag)
Notice that I paid less than I should have.  I knew my total seemed off when I was in the store, but  I didn't realize until later they took off the regular price ($9.99) for the razor coupon, not the $8.79 sale price.
I also went to Farm Fresh on Wednesday.  My best deals were 4 free cream cheese, 2 free sea salt, 2 Lea & Perrins for $0.19 each & 2 Crystal Farms cheese for $0.50 each.
How did you do this week?