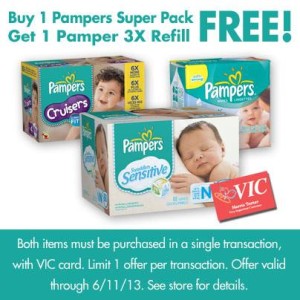 This promo ended 6/11!
I'm sorry I'm so late posting this (the deal is over now) but check out this diaper deal I scored at Harris Teeter of all places:
Buy:
Pampers Baby Dry Size 3 112ct: $25.99
Pampers Wipe Refill X3: $5.99 (FREE w/ Facebook Promo)
Use:
-$2.50 Pampers Baby Dry Coupon (found in box)
-$.50 Pampers Wipes (printable)
Pay:
= $22.49 
Get:
–$10 P&G Gift Card Promo (promotion ends 6/30) 
I'll end up paying just $.11 per diaper AND getting free wipes! That is, of course, if the P&G Gift Card works out. I'm not sure how they are calculating the totals (before or after sales/coupons) but it can't hurt to submit it and see 🙂
And for all you Mamas who are stockpiling diapers, here is a thrifty tip:
I recently ran out of size 3 diapers for my daughter, but had a bunch of size 5. I thought my son would fit them soon, but since he is till in size 4 they were just sitting there. I ended up taking them to Walmart and exchanging them for size 3, even though they were bought months ago at different stores and I had no receipt! I got store credit and was able to bring home five jumbo packs of the size I needed, and gave them five jumbo packs for their shelves. Hopefully we'll be potty training soon and he won't need the size 5 anyways. Wish us luck!