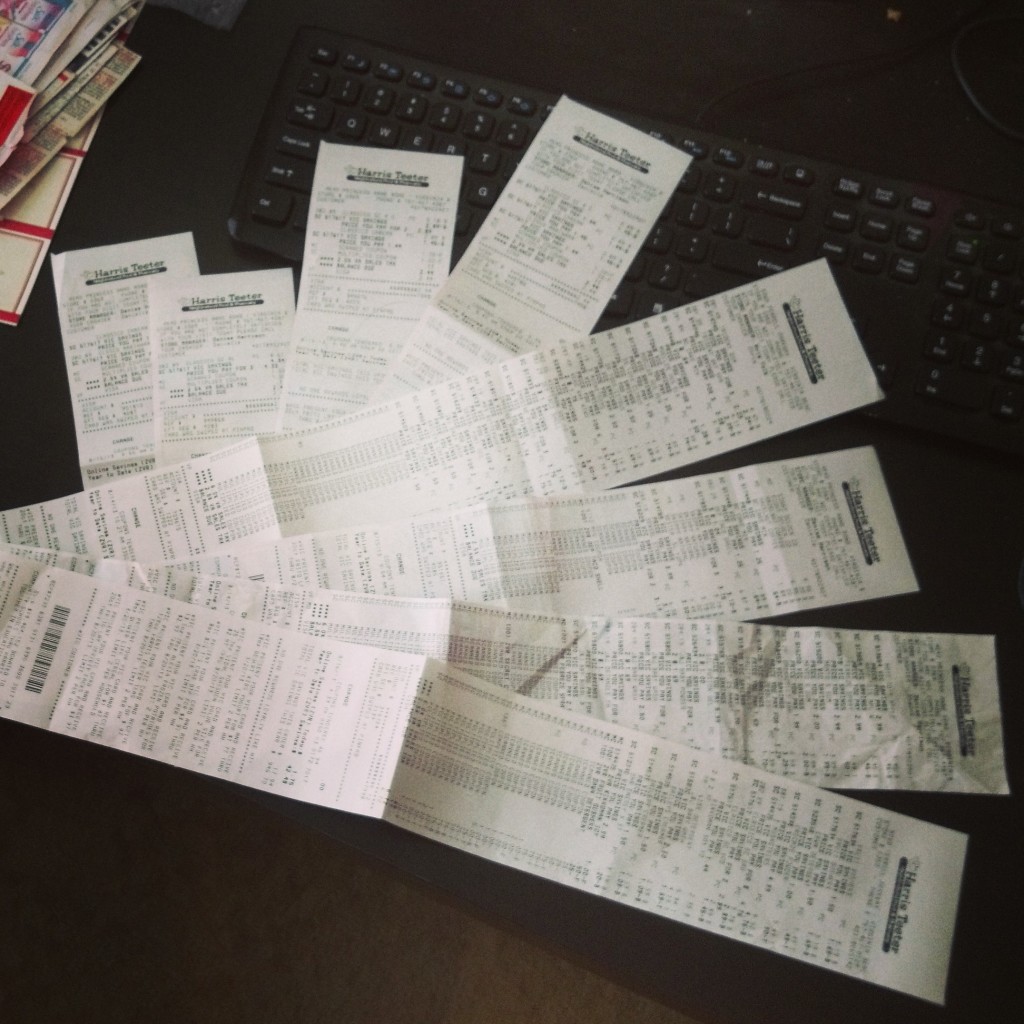 Here is a recap of my Harris Teeter Super Doubles shopping trip(s) I've made this week 🙂 I think we're done, whew.
The kids and I made it an adventure each morning since it is (weirdly) one of their favorite places to go. I was happy with how much I saved, and the kids were happy to get their "tookie" after each visit.
What we got:
(15) Classico Pasta Sauce
(12) 3 Musketeers
(10) Johnson's Baby Shampoo
(6) Old El Paso Taco Shells
(6) Trident Gum
(4) Betty Crocker Cake Mix
(4) Skippy Peanut Butter*
(4) Bailey's Coffee Creamer
(4) Kikkoman's Soy Sauce
(4) Sensible Portions Veggie Straws
(4) Eight O'Clock Coffee*
(2) Mentos Gum
(2) Mueller Veggie Pasta
(2) Ken's Buffalo Marinade
(2) Mrs. Butterworth
(2) Johnson's Baby Powder
(2) Post Fruity Pebbles
(2) Gillette Shave Gel
(2) Gushers Fruit Snacks
(2) Ghirardelli Chocolate Bars
(2) Imagine Organic Soup
(2) Wisk Laundry Detergent*
(2) Mott's For Tots
(2) Ocean Spray Citrus
(1) 5 Hour Energy
(1) Febreze
(1) Nestea 12pk
(1) Secret Clinical Strength Deodorant
(1) Dawn Dish Detergent
(1) Cascade
TOTAL SPENT: $45.18 ($.43 each)
TOTAL VALUE: $306.02 (a savings of 85%)
In addition, I have a $5 Saving Star Deposit on the way and another $2.00 Catalina to use, too. So maybe there WILL be one more trip to the store 😉
I definitely made some mistakes this week. Like, buying white sauce instead of red sauce (it didn't print a Catalina). And, not double checking that I actually gave the cashier all my coupons. I forgot to use my 3 Musketeers coupons the first time . . .which is why I ended up with so many, haha. Some of my ZVRs didn't come off, and I let it go – the customer service desk was SO busy and I figured it wasn't worth the $.50 to ask for a receipt adjustment. Also, I can't find two bottles of shave gel and a deodorant that I KNOW I bought 🙁 Lastly, a few of my coupons didn't double like I thought they would, so my savings were a little less than I expected . . . but overall I was REALLY happy with what I got.
How about you? Have a good Super Doubles week? Make any mistakes?