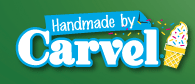 Reminder!!!
80¢ junior cone from Carvel on National Ice Cream Day!
National Ice Cream Day on Sunday, July 20. Carvel® will treat guests to junior cups or cones for only 80 cents in honor of the anniversary, filled with their choice of freshly made vanilla, chocolate or all-new soft-serve ice cream made with Ferrero's Nutella® hazelnut spread.
Print your coupon HERE.
In addition to receiving the National Ice Cream Day coupon, anyone who signs up for Fudgie Fanatics by July 20 will be entered to win free ice cream for a year as part of Carvel's 80th anniversary celebration.