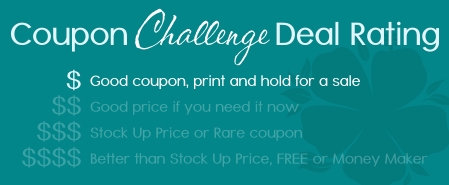 In an effort to help everyone determine what we (Melissa, Emily and I) feel is a good deal, I've added a new Deal Rating System.  You will start to see a deal rating box on the bottom of all applicable deals posts.  While coupons and deals are only posted that we feel are "good,"  it can be helpful to know just how good the deal really is.
Obviously, $$$$ is the highest rating we can give a deal.  That's not to say $ isn't good.  We just might not have a current sale or offer to pair the coupon with, but we want you to hold onto the coupon because it is likely you will be able to score a great deal later.  The coupon just may no longer be available.
Please use this new rating system in addition to the stock-up price guide to help ensure you are maximizing your savings.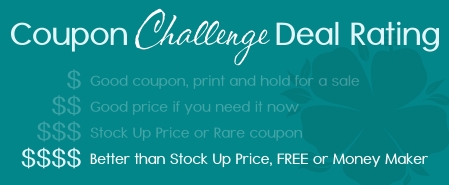 What do you think of the new rating system?  Do you think this will be beneficial to your money saving efforts?