Dunkin' Donuts has released it's biggest breakfast launch of the year – the GranDDe Burrito!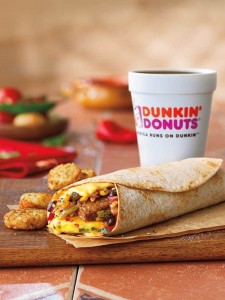 As you can see in my picture, the name is fitting. This thing is huge! It's 10 ounces, to be exact, of flavor bursting out of a delicious tortilla. The tortilla is filled with a spicy omelet, made with a mix of jalapenos, red bell peppers and pepper jack cheese with habanero.  Then, Dunkin' Donuts has packed the tortilla FULL with a rice and bean blend that also contains corn, fire-roasted peppers and onions.
The GranDDe Burrito comes in a sausage version and a veggie version (I can speak from experience when I say both are equally delicious), and are available all day at participating restaurants nationwide. This is one of the best things about Dunkin' Donuts – their full menu is available any time of day. You can't beat 24/7 breakfast! But act fast – the GranDDe Burrito was launched on February 29 and is only available for a limited time!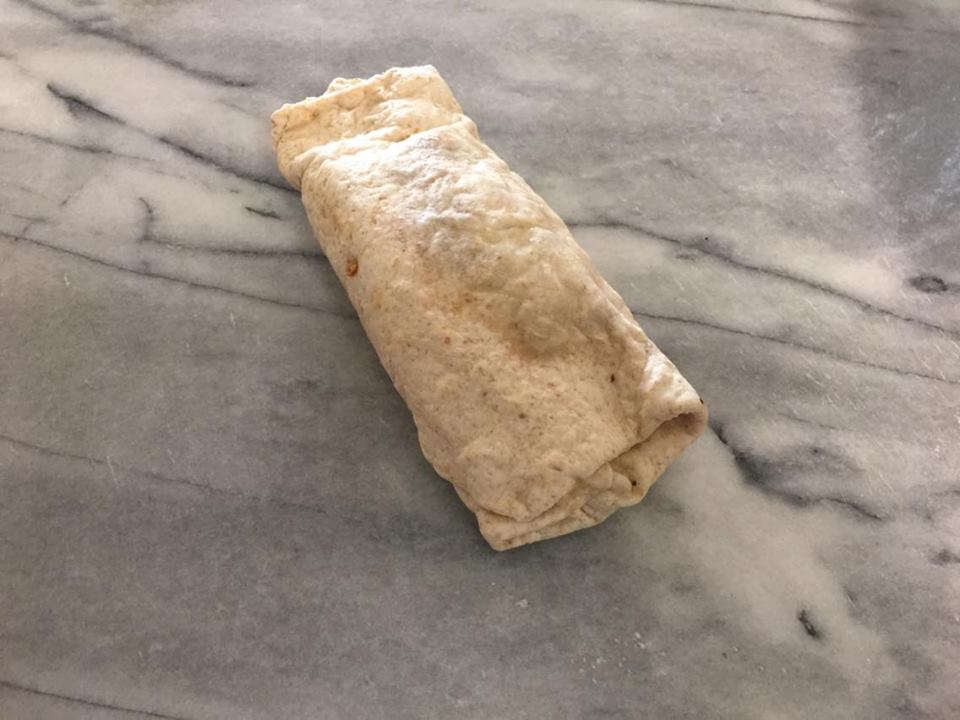 It's a good thing Dunkin' Donuts offers these burritos all day – my husband and I decided to try them for lunch instead of breakfast. They were served to us wrapped in foil, to ensure they stayed piping hot.
Full disclosure here: I do not like spicy foods. But I loved this burrito! So don't let the words "jalapenos", "pepper jack", or "habanero" scare you away. These are words that I would normally steer clear of, but these burritos were not too spicy for me to enjoy.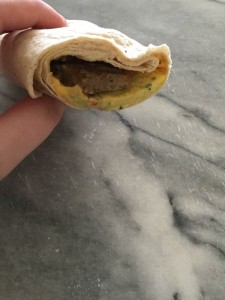 I think the packaging is perfect. As it comes wrapped in foil, it's perfect for those who don't have time to sit down and enjoy a complete meal. If you're on the go, this is a great option for you.
And I'm always so pleased when restaurants offer meatless versions of the same food item – I have so many friends and family members who don't eat meat for a variety of reasons and it's great to be able share the same meal together!
If you're looking for a side to go with your GranDDe Burrito, Dunkin' Donuts hash browns are lightly seasoned, delicious crispy bites, and pair well with any breakfast sandwich.
Have I made you hungry yet? If so, I have just the thing for you! Enter the giveaway below to win a $25 Dunkin' Donuts gift card to try your own GranDDe Burrito!
The prize, gift card & information are provided by the sponsor. The giveaway will end on March 25, 2016 at 12am EST. The winner will be chosen via Rafflecopter. The winner will have 24 hours to respond or a new winner will be selected. Open to U.S. residents only. Giveaway prize provided by the sponsor via email.
**Please note you should have the Dunkin' Donuts Mobile App (available for iPhone® or Android™) to accept the mGift, and then use it to pay for their GranDDe Burrito at their local Dunkin' Donuts restaurant.
Disclosure: I received a Dunkin' Donuts mGift to facilitate this review as well as compensation to host the giveaway. As always, opinions are 100% my own and may differ from others.