Target has started a new saving program called Cartwheel. You can score up to 30% off on items from all departments – grocery, baby, clothing, home goods and more. Even better, Cartwheel combines with manufacturer's coupons AND Target coupons – YES, you can use ALL THREE at once!
You'll need to log in with your Facebook account to see the offers:

Once you're logged in, you can click on Collections to start looking through the offers. You can sort by category too. Once you select an offer, it will flip over and show you a red "add" button.

Once you click that, it will be added to a spot on your Cartwheel with a check mark in the corner of the card. You automatically get 10 spots to start with; you can unlock more by earning badges – which will begin to unlock as you redeem offers, if your Facebook friends join Cartwheel and other ways I have yet to discover! You can remove an offer by clicking on "remove" if you change your mind or need room for other offers. Click on any card in your Cartwheel to check the expiration date.

Once you have your offers loaded up, you can print out a page with a barcode for the cashier to scan, or show the barcode on your smartphone (see the "redeem in store" text at the top right-hand corner of your screen). There is no app required, just visit the main page and log in on your phone. You can find all your offers under "My Cartwheel" with a barcode. The cashier can scan it straight from your phone and the saving will be applied to your order. All applicable offers will be redeemed with that one barcode, so be sure to have all the offers you want to use printed out or saved to your Cartwheel!
The Cartwheel discount, i.e. 15% off Threshold Patio Cushions, will be applied AFTER any Target coupons are used, and BEFORE any manufacturer coupons. You can redeem one Cartwheel offer up to four times per transaction (unless otherwise noted). Also, you can use six different Cartwheel offers per day – meaning you can get a maximum of 24 Cartwheel discounts per day.
Currently, Cartwheel is only redeemable US Target Stores only, Canada Stores and Target.com are not included.
Here is a deal you can try this week (5/19-5/25):

BUY: 2 Banana Boat Kids 8 oz Sunscreen with SPF 50 ($6.49 each)
Total = $12.98
USE:
(1) $2/2 Banana Boat Kids Sunscreens 4 oz Target Store Coupon
5% off Banana Boat Kids coupon – Target Cartwheel App
($12.98-$2=$10.98-$.55 (5%) = $10.43)
(2) $2/1 Banana Boat Product 4oz+ coupons found in the 4/21 SS
(Or use the $3/2 Banana Boat Sun Care Product coupon found in the 5/19 RP)
($10.43-$2-$2=$6.43)
PAY: $6.43
GET BACK: $5 Target Store Gift Card and $.75 Ibotta Deposit (for buying Banana Boat Kids and Baby Sunscreen Lotion)! 

Its like getting two bottles of baby sunblock for $.68, just 34¢ each!

Thanks, Hip2Save

Note: Target is spreading the word about Cartwheel on Facebook by sharing the deals you get in your Newsfeed. However, you can change your privacy settings to hide it/make it private if you wish (I did). Click on your name in the upper right hand corner of the screen and click "settings":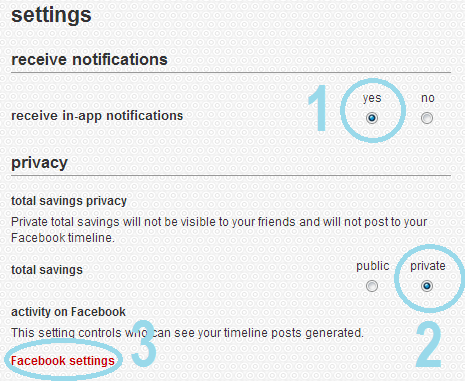 1.) I set "receive in-app notifications" to YES
2.) I set "privacy" settings to PRIVATE
3.) I set my Facebook App Setting to "Only Me" on the
App Setting page of my personal Facebook Account. 
 So, how about it? Are you super excited about yet another way to save at your favorite store? Between manufacturer coupons, Target store coupons, Target Mobile coupons, Cartwheel and 5% off using your Target Card, you should be saving LOTS 🙂
Do you have any tips or tricks on making this system work? Let us know! We love to see how our readers are saving money using new programs.