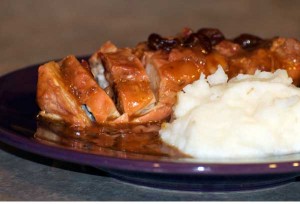 Orange Cranberry Chicken
by Jenny at The Healthified Mom and Freebie Spot
Prep time should be about 10 minutes and will cook for four hours and yield about 6 servings. If you have a big crock pot (about 6qt) you can double the batch and when finished put half in gallon size bag for the freezer!
Ingredients
6 boneless skinless chicken breasts, frozen
3/4 c Russian salad dressing
1 pkg dry onion soup mix
1 2oz pkg fully cooked bacon, chopped
1/4 c no-pulp orange juice
1 can (16oz) whole berry cranberry sauce
Instructions
Lightly spray slow cooker with cooking spray. Place frozen chicken breasts in slow cooker.
Mix together the dressing, soup mix, bacon, orange juice, and cranberry sauce.
Pour mixture evenly over the chicken, cover, and cook on high for 4 to 6 hours.
I recommend spreading the chicken out as evenly as possible in order to get the most coverage from your sauce. And never, ever lift the lid off your slow cooker. If you do it just once, you may need to add 30 minutes or more to your cooking time.
Thanks, The Healthified Mom!