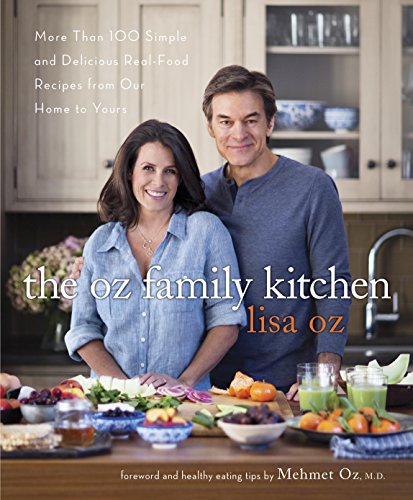 Amazon has The Oz Family Kitchen: More Than 100 Simple and Delicious Real-Food Recipes from Our Home to Yours available for only $2.99 – was $27.99 for the print version.
Dr. Oz fans are endlessly curious about what he and his family eat.  They assume that the family of "America's Doctor" must live on a diet of broccoli and bean sprouts and be sworn martyrs in the church of joyless nutrient consumption.  This couldn't be further from the truth.  The Oz family (including Lisa's husband Mehmet) love food.  It just has to be good food–not processed, artificially flavored or filled with empty calories. The Ozes understand the power of food and its ability to heal, and in The Oz Family Kitchen they will, for the first time, share their knowledge, passion and recipes.
Don't have a Kindle?

This ebook is specifically for Kindles. However, you can download a free application which enables you to read Kindle ebooks on your computer, iphone, Android, Blackberry, iPad and more.
Need a Kindle?
Why pay for books when you can get them free? See more FREE ebook offers!
Product prices and availability are accurate as of the date/time indicated and are subject to change. Any price and availability information displayed on amazon.com at the time of purchase will apply to the purchase of this product.