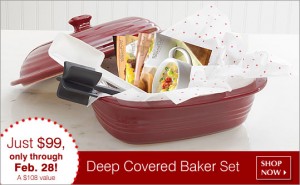 Pampered Chef is offering a special through February 28th on their amazing Deep Covered Baker; everything you need to make the Loaded Baked Potato Chowder.  The special includes the  cranberry deep covered baker, mix 'n chop, small mix 'n scraper, recipe card for the Loaded Baked Potato Chowder plus 3 more recipe cards for $99 ($108 value).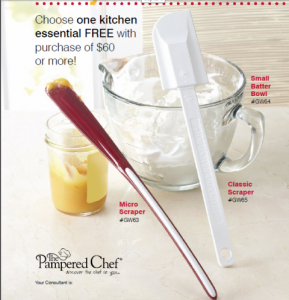 But wait!  Tiffany knows that Coupon Challenge readers want more than just a special, you want a DEAL!
1.  Ordering the  Deep Covered Baker special qualifies you for the February guest special.  Choose the small batter bowl, classic scraper or micro scraper (~$12 value).
2.  Tiffany will throw in a NEW March product, a NEW Deep Covered Baker Recipe Book including 19 recipes for both the microwave and oven ($7-$8 value).
3.  Tiffany will email you additional recipes for the Deep Covered Baker.
4.  Finally, she is offering an additional 10% off the special price. You can also get 10% off on any other products you add to your Deep Covered Baker order.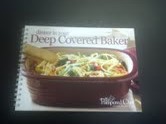 Spend $89 plus tax & shipping and get everything mentioned above!  That's the deep covered baker, mix 'n chop, small mix 'n scrapper, 4 recipe cards, NEW March cookbook, & your choice of the 1 February guest special (small batter bowl, classic scraper or micro scraper).  The Deep Covered Baker alone retails for $85.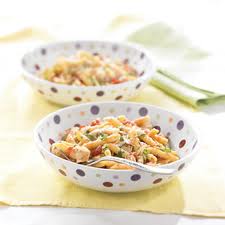 I love my Deep Covered Baker!  I can cook an entire meal together quickly in the microwave.  That means less dishes to wash too!
One of the recipes I enjoy is Grilled Chicken Penne:
Ingredients:

| | |
| --- | --- |
| 4 | garlic cloves, peeled |
| 2 | cups grape or cherry tomatoes |
| 3 | cups uncooked mezze penne pasta |
| 3 | cups chicken broth |
| 3/4 | cup dry white wine such as Chardonnay |

| | |
| --- | --- |
| 1/2 | tsp each salt and coarsely ground black pepper |
| 1 1/4 | cups lightly packed fresh basil leaves, divided |
| 1 | oz Parmesan cheese, grated (about 1/4 cup packed) |
| 2 | cups diced grilled chicken breasts |
| | Additional grated fresh Parmesan cheese and coarsely ground black pepper (optional) |
 Directions:
1.
Spray Deep Covered Baker with olive oil using Kitchen Spritzer. Slice garlic into baker using Garlic Slicer. Add tomatoes. Cover; microwave on HIGH 4-5 minutes or until tomatoes begin to burst, stirring after 2 minutes. Crush tomatoes using Mix 'N Chop. Add pasta, broth, wine, salt and black pepper.
2.
Return baker to microwave; cover and microwave on HIGH 16-18 minutes or until pasta is tender, stirring after 10 minutes. Meanwhile, coarsely chop basil with Chef's Knife. Reserve 2 tbsp for garnish. Grate cheese using Rotary Grater.
3.
Carefully remove baker from microwave and remove lid, lifting away from you. Add remaining basil, cheese and chicken to baker; mix well. Garnish with reserved 2 tbsp basil, additional Parmesan cheese and black pepper, if desired.
Yield: 8 servingsNutrients per serving: Light (about 1 cup): Calories 240, Total Fat 2.5 g, Saturated Fat .5 g, Cholesterol 25 mg, Carbohydrate 35 g, Protein 17 g, Sodium 450 mg, Fiber 2 gCook's Tips: An additional 3/4 cup chicken broth can be substituted for the wine, if desired.

Any tube-shaped pasta requiring 9-11 minutes cook time, such as penne or rigatoni, can be substituted for the mezze penne pasta.

To grill chicken in the Grill Pan, season 2 chicken breasts, about 6 oz each, with salt and black pepper. Heat Grill Pan over medium-high heat 5 minutes. Spray pan with oil. Cook chicken 4-6 minutes or until grill marks appear. Turn chicken over; cook 4-6 minutes or until center of chicken is no longer pink and Digital Pocket Thermometer registers 170°F.
Deep Covered Baker recipes are ready in 29 minutes for only $2 per serving
And!!! Think about this… Saving time. If we say SAH moms were paid $20 per hour… But this baker saved them 30 mins per day in the kitchen, it would be paid for in 10 days!!!
The potential giveaway:
IF 10 (ten) orders are placed for the Deep Covered Baker Special, Tiffany will give 1 reader who ordered their special for FREE!  This is a great perk if you were planning to order the Deep Covered Baker special!
To order you must email Tiffany.  These extra deals are not available ordering directly through the website.  Make sure you mention you saw this post, so you get all your extras & the possibility of the giveaway!  Orders must be placed by 02/28.
*Direct shipping is approximately $14.50 to anywhere in the US.  Hampton Roads locals can choose to pick their order up from Tiffany for $4.50 shipping.
Disclosure:  I was not compensated for this post