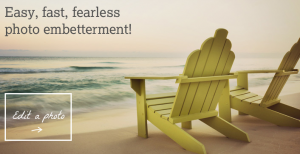 I am super excited about this offer!  When I was at the Savvy Blogging Summit last week, 2 amazing bloggers said they use PicMonkey to edit their photos.  While I've been using the free version of PicMonkey for some time now, I couldn't bring myself to pay for the update.  Well, now you can!
Get a 6 month FREE subscription to PicMonkey, and get the "royale" features that I've always wanted to try.  Just use the code ISTE2013 to start your free trial!
Thanks, Passionate Penny Pincher!