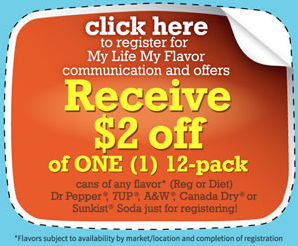 Head on over to MyLife MyFlavor and sign up to get a high value $2.00/1 12 Pack Coupon!  Look for the image above on the right-hand side bar. The coupon is good for $2.00/1 12-pack of any flavor (Reg., TEN, or Diet) Dr. pepper, 7UP, A&W, Canada Dry, Squirt, Dun Drop, or Sunkist Soda.
After you sign up you'll get an email with a link to print the coupon.
If your Kroger sells Dr. Pepper as a Pepsi product, you can grab this deal:
Buy: (3) Dr. Pepper 12 pks (or any variety listed on the coupon, if included in the sale)  3/$9
Use: (3) $2.00/1 12 Pack Coupon (will need 2 computers)
Pay: $1 each before tax!
If your area doesn't bottle Dr. Pepper with Pepsi products, then Walgreens is offering a 3/$10 on Dr. Pepper thru tonight as well. With the 4th of July coming up, I'm sure this coupon will make for a GREAT deal soon.
Thanks, For The Mommas!