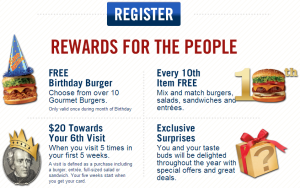 My husband celebrated his birthday yesterday. Yup, ON Mother's Day. We both felt a little cheated! Really, who gets to sleep in, the birthday boy or the Mama?!
Anyways, we were crazy enough to decide that we wanted to go out to dinner to celebrate BOTH occasions and I started to look around for birthday deals at local restaurants. While we didn't end up at Red Robin, I thought this was pretty sweet:
Sign up for the Red Robin Royalty program and you can score a FREE Birthday Burger during your birth month!  
Just fill out the form using your phone number (or use a card from your local Red Robin) to get your hamburger!
The best part is that both Hubs and I have May birthdays, so this'll be like a FREE date for us one night! Whee 🙂