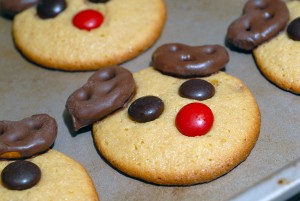 Reindeer Cookies
by Mackenzie at The Centsible Family
Ingredients:
2 1/4 cups all purpose flour
1 tsp baking soda
1 cup butter (2 sticks – softened)
3/4 cup granulated sugar
3/4 cup packed light brown sugar
1 tsp vanilla extract
2 large eggs
red and brown M&M's
chocolated-covered mini pretzels
Directions:
Combine flour and baking soda together in separate bowl.
Beat butter, granulated sugar, brown sugar and vanilla extract in large bowl or mixer until creamy and smooth.
Add eggs and beat well. Gradually add flour and beat into mixture.
Scoop cookie dough into one teaspoon sized balls and place on parchment lined cookie sheets.
Bake at 375 for 9-11 minutes. Remove from oven when cookie is still soft enough to add the M&Ms and have them stick. Do not over bake the cookies.
Immediately add two chocolate-covered mini pretzels to the top and the M&M's (two brown and one red) to the face.
Let cool about 20-30 minutes before removing from the parchment paper.
Notes:
I used a one-teaspoon scooper I had for the cookie dough. These cookies spread out a lot so when I tried my three-teaspoon scooper it was definitely too big. The one teaspoon sized cookie seems to fit the M&M's and pretzels just right.
Thanks, The Centsible Family!