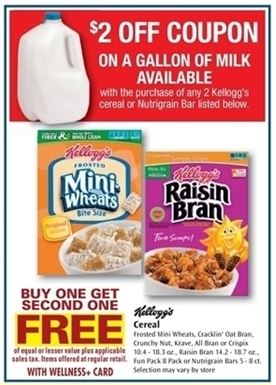 *RITE AID* Frosted Mini-Wheats Only $1.12 + $2.00 Off Milk Coupon wyb 2
WOW!!  Check out this  hot deal I found on Frosted Mini-wheats while browsing tomorrow's Rite Aid ad!  I hope you printed those hot Kellogg's coupons that I posted about the other day.
Use (1)  $1.75/2 Kellogg's Frosted Mini-Wheats Cereals
Pay:  $3.24 OOP, submit $1/2 Kellogg's Frosted Mini-Wheats (Checkout 51 Deposit)
And get $2 Coupon off Milk
Final Price:  $1.12 each + $2.00/1 Gallon Milk
See all of this week's Rite Aid Match-ups before you head to the store!