Honestly, my Harris Teeter Super Doubles shopping trips have been cra-zy this week. Sadly, no pictures. I still have a few more trips planned, but so far I've spent around $20 on over $150 worth of groceries . . . and $13 of that was butter, bread and pears. We are pretty stocked up on free Vintage Seltzer/toiletries/chocolate and cheap cereal/frozen meals.
While I usually don't take advantage of the pizza and burrito deals, I am starting to add a few things to my freezer for after Baby #3's arrival when Mama doesn't feel like cooking 😀
Shopping Trips:
16 Vintage Seltzer – FREE!
4 Chex Cereal
1 Cheerios
4 Wheat Thins
2 Lindt Chocolate – FREE!
10 Monterrey Burritos – FREE!
2 State Fair Corn Dogs
2 Palemero Pizza
4 Nestle Toll House Morsels
2 Furmanos Tomatoes – FREE!
2 Cover Girl Eye Enhancers – FREE (this was a $4 money maker!)
1 Pampers Pull Ups
1 Olay Body Wash – FREE!
1 Scope Mouth Wash – FREE!
1 Secret Clinical Strength Deodorant – FREE!
1 Gillette Shave Prep – FREE!
3 Snickers Bites – FREE!
1 HT Wide Pan Bread
4 Pears
4 1lb HT Salted Butter
I only noted one mistake on my receipts, and that was that my $1/3 Vintage Seltzer EVIC coupon didn't come off 🙁 I'm going to see if they'll fix it next time I'm in the store if I can find the receipt.
Lastly, because I forgot to take pictures of my shopping trips, and because I am shameless 🙂 here is a cute picture of my kids in their Halloween costumes: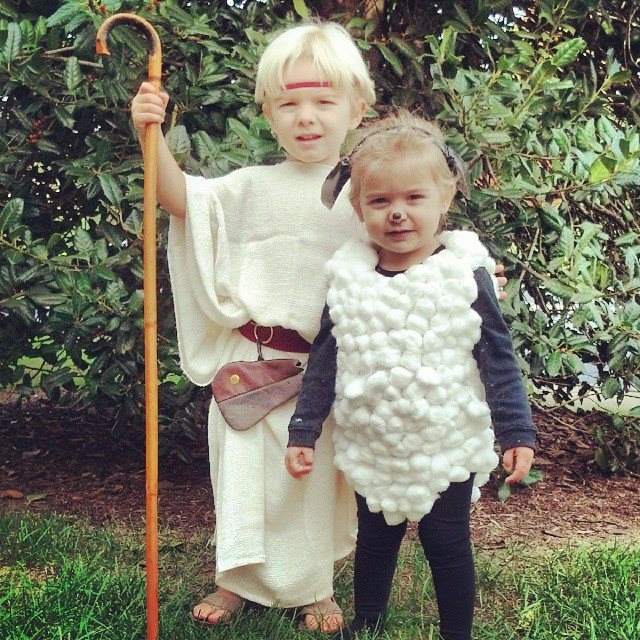 Meet David, the Shepard who defeated Goliath and his sheep, Woosy.
They kill me! It was their first time trick or treating and they had a BLAST.