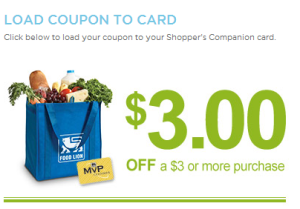 Calling all Food Lion Shoppers! Here is a quick way to save money on stuff that doesn't have coupons often, like meat or produce:
Head on over to Food Lion's website to sign up for their Food Lion Shopper's Companion emails. Once you register (you'll need your MVP number), you'll receive an email with instructions to load a $3 off $3 purchase coupon straight to your MVP card.
Its not a lot, but every little bit helps 🙂
Thanks, Moola Saving Mom!
Check out all the deals at Food Lion this week