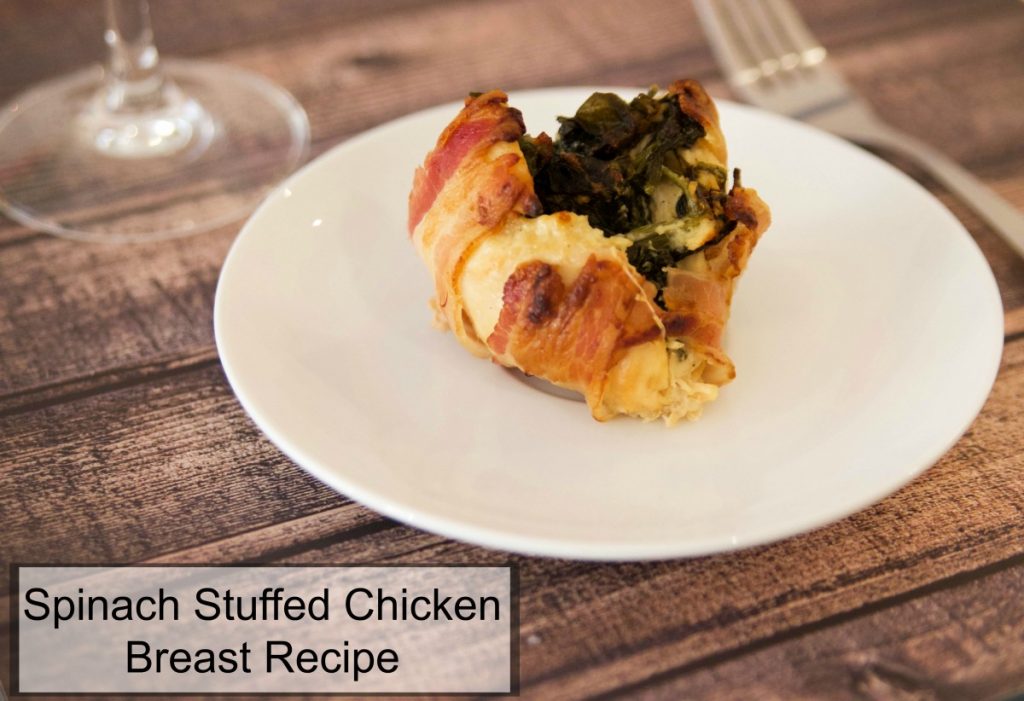 Are you looking for a new recipe to add to your menu plan?  Cheesy and flavorful, this spinach stuffed chicken breast recipe will soon be a new family favorite.  I like to serve it with another veggie and a rice pilaf.
There are a bunch of cheese options to personalize this dish.  Feta, asiago, white cheddar, and pepper jack are tasty options as is an Italian blend or mixture of mozzarella and parmesan.  The options are endless, so use your favorite cheese or whatever you have in the fridge!
You could also substitute frozen spinach, but I prefer the flavor of fresh.
Spinach Stuffed Chicken Breast Recipe
Ingredients:
4 boneless, skinless chicken breast halves (pounded to 1/2 inch thick)
1 (10 oz) package fresh spinach leaves
1/2 cup sour cream (I prefer reduced fat)
1/2 cup shredded gouda or 1 slice per breast
4 cloves garlic, minced
1 tablespoon extra-virgin olive oil
1/8 teaspoon salt, or to taste
1/8 teaspoon pepper, or to taste
8 slices bacon
Directions:
Preheat the oven to 375 degrees Fahrenheit.
Heat the olive oil in a large skillet over medium heat. Add garlic and saute about 1 minute, but not until browned.   Add the spinach to the skillet, sprinkle with salt and pepper, and cover.  Cook approximately 5 minutes or until wilted.
Remove from heat and stir in sour cream and cheese.
Lay the pounded chicken breasts out on a flat surface, and spoon some of the spinach mixture onto each breast.
Roll up the chicken then wrap each chicken breast with two slices of bacon. Secure with toothpicks if needed.
Place wrapped chicken in a shallow baking dish.
Bake uncovered for 35 minutes or until almost done.   Then increase heat to 500 degrees Fahrenheit and cook for an additional 5 – 10 minutes allowing the bacon to brown. Alternatively, place under the broiler for an additional 3 – 4 minutes to brown the bacon.  Chicken is done when the internal temperature is 165° Fahrenheit.
This tasty spinach stuffed chicken breast recipe will be a great addition to your weekly menu.   You can personalize the dish by changing the type of cheese and even add a bit of chopped onion for more flavor.
A funny little tidbit – when Lucy eats this dish she always eats all the spinach before even starting on the chicken.  She's such a strange child sometimes 🙂
How did you change the spinach stuffed chicken breast recipe?  Leave a comment and let us know your tips.