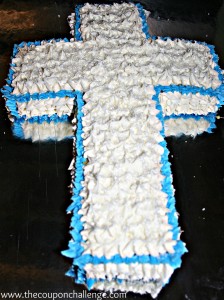 Looking for an Easter Cake?
A cross is a simple cake to make for your Easter celebration.
Bake a sheet cake in the flavor of your choice
Remove cake from pan and cool
Level cake (if necessary) by trimming any "bumps" with a sharp knife
Mark and cut the sheet in the form of a cross, set aside excess
Decorate with colors of your choice
We used white icing with a star tip facing straight down to decorate a majority of the cake.  In order to give the cake more definition, we used blue icing (again with a star tip) around all the edges and along the bottom of the cake where it meets the cake board.
HAPPY EASTER!
 Like this cake?  Pin it!