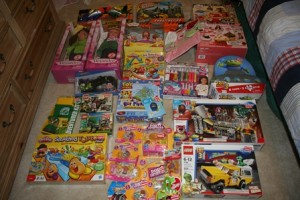 I made it to the Target Toy Clearance just in time last Thursday.
Total Spent $140.78
Total before clearance $435.25
I got a ton of good deals to stock my toy closet.  A few of these items will be Christmas presents for my kids such as the Toy Story 3 Lego sets and 1 of the Madame Alexander dolls.  I also picked up 1 of the Girl Gourmet sets to give to my niece for Christmas.
Most of the other toys were purchased with the intention of birthday gifts for the kids friends or as gifts for Toys For Tots and Angel Tree in December.
Did you get toy deals last week?