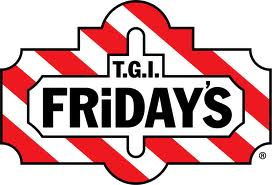 If you love TGI Friday's, you'll love the new member benefits to help you save more when you dine out.
Guests can now join the free program by visiting GiveMeMoreStripes.com, or can text "JOIN" to 698443 and, in seconds, become a Stripes member and get his/her new account number. For those who are all thumbs, there is an available option to join in any restaurant on the Jukebox interactive touch screen, or at the table with a sign-up form.
 
Members earn one Stripe for every $1 spent. Previously, members automatically received an $8 food reward for 100 Stripes earned. With the newly updated program, members now have more choice and flexibility in redeeming their Stripes for a variety of delicious food. Now there are five different rewards to redeem with Stripes. For example:
·         50 Stripes = Free dessert, like a Brownie Obsession
·         80 Stripes = Free sandwich or burger
·         100 Stripes = $8 food reward (existing reward)
·         100 Stripes = Free seafood or chicken entrée (not including Jack Daniels, combos or premium items)
·         150 Stripes = Free steak or ribs entrée (not including Jack Daniels, combos or premium items)
 
This new reward structure allows members to redeem Stripes at a faster rate. With the new program, members can earn rewards in as little as one or two meals. In addition, members can now also redeem Stripes anytime instead of waiting for an email certificate when 100 Stripes are earned. All the new rewards are valid for 60 days, giving members twice as much time to redeem the reward than before.
 
VIP Treatment for Friday's MVPs
Recognizing its greatest fans, Friday's will sprinkle in a few surprises for Stripes members throughout the year. This treat could be an appetizer, dessert or other delicious small plate. And, after every three visits, members will receive a Jump the Line Pass, allowing them to skip to the front of the line and get immediate seating. They also receive member-only offers and invitations to exclusive events, like food/beverage tastings and menu previews.
At the same time, benefits contributing to the Stripes program success remain, such as:
·         Free membership
·         Earn 1 Stripe for every $1 spent on food
·         Free appetizer or dessert AND a Jump the Line Pass just for joining (sent via email)
·         Free dessert w/entrée purchase during birthday month
 
For more information, visit www.givememorestripes.com
Information obtained from the CARROLLTON, Texas, March 30, 2011