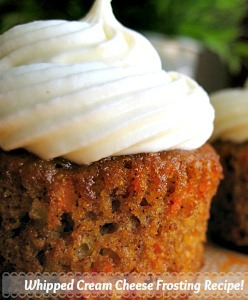 Are you looking for the cream cheese icing recipes?  Then you have to give this a try!  In my opinion, it is the BEST!!!  Of course I would think so.  It's my own recipe!  😮  I don't like my frostings overly sweet so I played around with my ingredients until I found the right amount of sweetness with the tang of the cream cheese.  This recipe is versatile so you can change it up to your likeness.  If you want it sweeter add more sugar and decrease the cream cheese.  If you want a stronger cream cheese flavor then decrease the amount of sugar.
This is a very quick and easy recipe.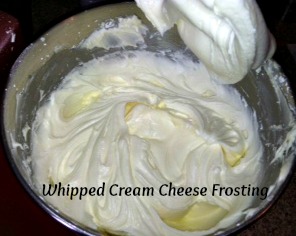 Whipped Cream Cheese Frosting
Ingredients:
1 Cup Butter (2 sticks), room temperature (You can use salted or unsalted.  I prefer salted)
3 Packages (8 oz) Cream Cheese, room temperature
5 Cups Confectioner's Sugar, sifted (Sift after measuring)
3 tsp Clear Pure Vanilla Extract
Instructions:
In the bowl of an electric mixer, with paddle attachment, beat butter at medium-high speed until light and fluffy, about 2 minutes.
Add the cream cheese and beat until fluffy and thoroughly mixed, about 2 minutes. Scrape sides of bowl as needed.
Add vanilla and beat about 30 seconds.
Gradually, about 1 cup at a time, add the confectioner's sugar and beat about 4-5 minutes.
***Store in an airtight container in the refrigerator for up to a week.  Beat in the mixer for 1-2 minutes before using.
***NOTE*** This will not be a pure white frosting due to the butter. It will be a slightly off-white color.  If you need it to be white then look for a butter that is almost white in color.