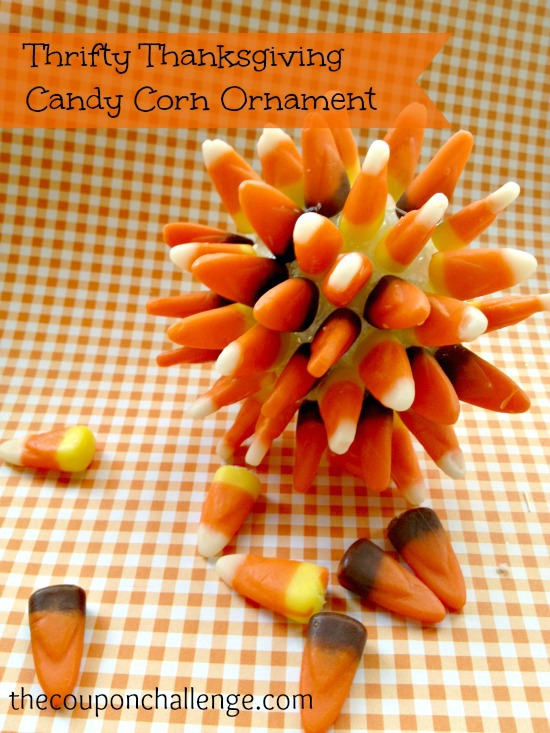 With all of the hustle and bustle of the holidays approaching, let's not forget about Thanksgiving just yet! The colors of Thanksgiving are so warm and inviting, and crafting with them are a fun and festive way to get into the spirit.
This thrifty Thanksgiving Candy Corn Craft Ornament is the perfect example of a Thanksgiving themed craft that is full of color and so simple to make. Take a look below at how to make your very own.
Supplies needed:
Foam ball
Hot glue, glue gun
Candy corn
Ribbon
We were able to find all of our supplies at our local dollar store, making this not only a fun craft but a very budget friendly one as well.
Directions:
1. To begin, make a line of glue (make it thick) going around the diameter of your foam ball.
2. You will now want to press candy corn into the glue and continue around in a circle. You want to work fast, as the glue will dry quickly.
3. Apply another strip of glue and repeat this process. Work quickly so you don't need to reapply glue.
4. Continue the process until your ball is full of candy corn. If you have any gaps, go in and fill them in with a drop of glue and another piece of candy corn.
5. Allow some time for your ball to dry. Tie a piece of ribbon and apply some glue to it. Tuck it in between two candy corns and press as firmly as you can to secure it.
6. That's it! Once everything is dry your candy corn ornament is now ready for hanging. Why not hang a few of these from an entry way, or gather several of them in a decorative bowl?
These candy corn ornaments are truly unique and a great way to add a pop of color to your Thanksgiving home. Give them a try and see what you can come up with!
Do you have a favorite Candy Corn Craft?