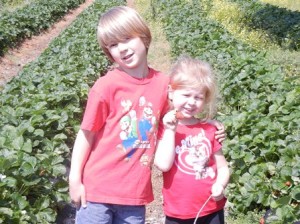 Planting and maintaining a garden is not only frugal;  it can be a fun and educational adventure for children.  Who knows, they may actually eat more veggies!
1.  Let kids pick out plants or seeds:  Give your child a say in the vegetables you plant.   Take them to the garden center and talk about the different veggies that would grow well in your area.
2.  Get dirty:  Allow kids to help plant the garden.  Kids love to play in the dirt, so direct their love off all things messy into a productive activity.  Kids can dig holes, drop in seeds or plants, cover with dirt and water the planted area.
3.  Maintain the garden:  Keep your child interested and involved in the growing process throughout the year.  You can enlist kids to help water and weed the garden.  Adults can supervise to make sure that plants are getting enough (and not too much) water.  Just remember not to force the issue.  Kids won't want to tend the garden daily.
4.  Little pickers:  Allow children to pick the veggies when ripe.  You could even designate a special basket just for their bounty.
5.  Get cooking:  Involve children in meal preparation using their freshly picked vegetables.  Young children can wash vegetables and place pre-cut veggies in the salad bowl or meal pan.  If you're marinating vegetables (say for the grill) allow children to place the veggies in the pan and add the marinade.  You can also discuss with children new ways to prepare meals using the vegetables they helped grow.
Children enjoy being "big helpers."  Tap into that desire and save yourself a little bit of work in the process.   Parents can also use home garden's as an opportunity to discuss topics such as how things grown, the benefits of growing your own food, and  the importance of eating your vegetables.  It will also allow for more individual time with your child making the garden extra special.
Do your children like to help in the garden?