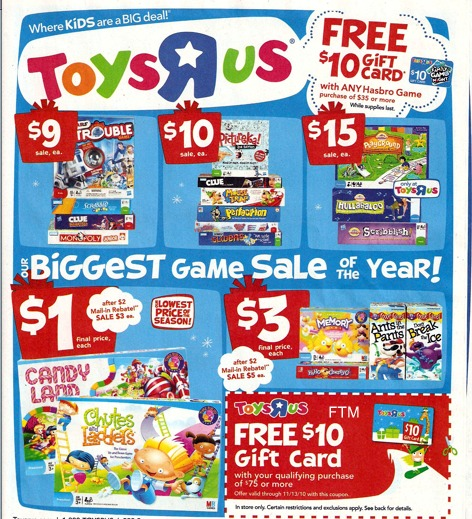 Stop by Toys R Us to get a great deal on select Hasbro Games.  Combine the sale and rebates to score cheap games just in time for the holidays! 
Deal Idea:
Buy one Chutes & Ladders $3.00
Buy one Candyland $3.00
Buy one Ants in the Pants $5.00
Buy one Don't Break the Ice $5.00
Buy one Memory $5.00
Buy one Hi Ho Cherrio $5.00
Buy one $9.00 Game (Trouble, Scrabble, Clue or Monopoly)
Pay $35.00 (+ tax) out of pocket
Get a $10.00 Toys R Us Gift Card back
Then submit for $12 in Mail in Rebates (form should be in  tearpad near the games)
That's like getting 7 Games for $13 or $1.85 each. I did the game deal last year and still have a few left.
Thanks Clippin' with Carie!