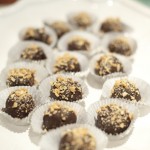 Turtle Cookie Balls
by Brett at Mama Loves Her Bargains
70 Nilla wafers
3 tablespoons butterscotch ice cream topping
8 oz cream cheese
2 packages of Baker's Semi Sweet Chocolate Squares (8 squares total)
Directions:
Crush the Nilla wafers into fine crumbs (GREAT for kids!!)
Mix in cream cheese and butterscotch topping. (Soften cream cheese first. Trust me)
Use a cookie scoop and form into small balls. (Good for kids)
Place on parchment lined baking sheet and freeze for 10 minutes
Melt chocolate in microwave.
Dip the balls into chocolate and place on parchment or waxed paper. Sprinkle with chopped pecans before the chocolate dries.
Refrigerate and serve! Delicious!!
* Note – I think for more turtle flavor these would be great with crushed up heath bars added to the cookie ball.
*** For easier dipping take a plastic fork and remove the 2 middle tines. Place the balls in the chocolate and roll to coat. Remove using the modified fork and place on waxed paper.
Thanks, Mama Loves Her Bargains!