Upromise – The Smart Way to Save for College
I just realized that I haven't done a post about UPromise.  I signed up for a FREE account just after my oldest was born.  College is expensive and I need all the help I can get to save money for my children's education.
Upromise is a free service, and by adding your credit, debit or grocery card means that you can begin saving money for college every time you shop at participating retailers.
You can enjoy the benefits of earning money for yourchild's education just by shopping where you normally do every day. When families join Upromise, companies will contribute a portion of their eligible spending with them into a Upromise account for their child, grandchild or any future college student they wish to support. Members can earn college savings when they buy gas, dine out, shop online – even when they buy or sell a house.
There are also coupons you can add to save even more for college!  When coupons are redeemed, you won't see money off your receipt.  The coupon value will be added to your UPromise account for college savings.  How great is that?!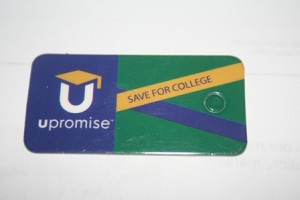 What IS Upromise?
Upromise – Helping You Save for Your Child's Education
Upromise was founded with a single mission in mind—to help families achieve the goal of a college education for the children they love. Upromise provides the programs, products, and information parents need to help them reach their college-savings goals.
As a Upromise member, you can save for college on everyday purchases such as gas, groceries, dining out—even when you shop online.
And you can invite your family and friends to help you save too. When they join, a portion of their eligible spending can be deposited into your Upromise account—automatically.
How It Works
Join Upromise for FREE and register your grocery loyalty cards, credit cards, and other basic information to allow us to track your eligible spending
Shop for the participating products and services you enjoy
Save a portion of your qualified spending for college automatically in your Upromise account.
Join UPromise and Save for College
 today.  It's quick and easy to add more savings to your child's college fund.