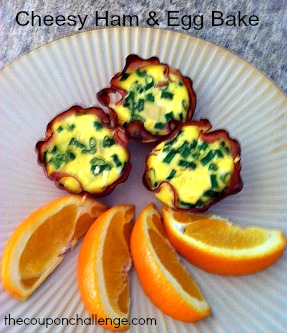 Valentine's Day Breakfast!  Cheesy Ham & Egg Cups!!
Here is a super quick and easy recipe for a delicious breakfast.  This would make a tasty Valentine's Day Breakfast in Bed for your Sweetie!
Ingredients:
6 eggs
3 tablespoons  milk
1/8 teaspoon salt
1/8 teaspoon pepper
1 cup Shredded Cheddar Cheese
1 cup potatoes, cooked & chopped
fresh chives or green onions, chopped
Ham
*****This recipe is very versatile.  You can choose the ingredients that you and your family enjoy.
Some ideas: Cooked/crumbled bacon or sausage, green/red peppers, onions, shredded hashbrowns, mushrooms, etc.
Directions:
1.  Preheat oven to 350 degrees F. Grease a 12 cup muffin pan.
2.  In a bowl, whisk together eggs, milk, salt and pepper.
3.  Line each muffin cup with ham slices forming a cup.  Ensure there are no holes for the eggs to leak through.

4.  Sprinkle cheese in the bottom of each cup.
5.  Divide chopped potatoes evenly among cups.
6.  Spoon egg mixture evenly between cups.
7.  Sprinkle with chives.

8.  Bake for 20 minutes or until set and lightly browned.
Serve with fresh fruit and toast if you like.