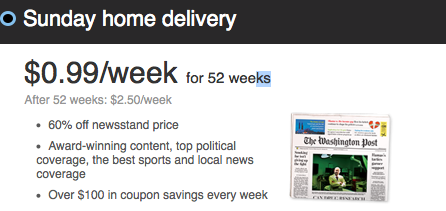 UPDATED:  $0.99/week for 12 weeks (Sunday Only delivery)
Did you know that you can get the Washington Post delivered?
The Virginian Pilot is a great newspaper but it's lacking one important enclosure that couponers need – the RedPlum coupon insert!  I recently started a subscription to the Washington Post to not only get the RP insert (since my area receives the RedPlum insert in the mail), but all the other weekly coupons as well.
Purchase a Sunday only 1-year subscription (52 weeks) for only $0.99 per issue!  That's just $51.48 for an entire year of the Washington Post!  You will easily make your money back in coupons with each issue.
Purchase your Washington Post Newspaper here and start getting ALL the coupon inserts delivered to your door!
*Offer only valid in limited locations within The Post's 7-day home-delivery area for new subscribers and those who have not been a Post subscriber for the past 30 days. You will be charged a one-time payment for the initial 52-week subscription period. After 52 weeks pay $2.50/week