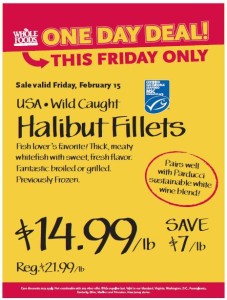 Whole Foods Market Daily Deal today (2/15) is Halibut Fillets! USA-Wild Caught, Certified Sustainable Seafood MSC.
Reg. $21.99/lb
Sale: $14.99/lb
You Save: $7/lb
I need to fit a trip to Whole Foods into my schedule today.
Make sure you pick up the Whole Foods Market 2013 Calendar with over $40 in Coupons while you're in the store.