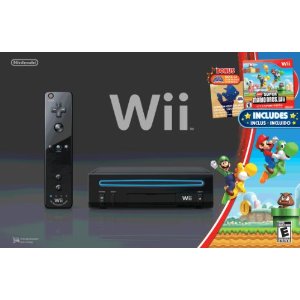 Stores don't seem to be pushing the Wii this year.  I only found a few stores advertising prices this year.
Current Deal:
Amazon: Wii Black Console with New Super Mario Brothers Wii and Music CD
$147.94
Target: Nintendo Wii Console with Mario Kart Bundle – Black (Nintendo Wii)  $149.99
Black Friday Deals:
BJ's: Wii Holiday Bundle $199.99
Sam's Club: Nintendo Wii Blue Console $99
Sears: Nintendo Wii w/ New Super Mario Bros and Super Mario Galaxy Music $134.99
Walmart: Nintendo Wii Limited Edition Blue Console $99.96
Looking to purchase the Playstation 3 or Xbox 360 with Kinect?