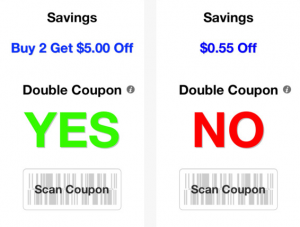 *WOW*  FREE Double Coupon Checker App for iPhone & iPad!!!
This is so Cool!  You have to check out this new App that Apple has come out with for us couponers!!!  I've been playing around with it all morning! 😮 The Double Coupon Checker App is available only for the iphone and ipad and it's FREE to download!  It is AMAZING.  Simply go to the App store, search for "Double Coupon Checker" and download.
"Use "Double Coupon Checker" to quickly check whether the coupons you have can be doubled.  Simply scan your coupons from Sunday newspaper, "Catalina" print-out, or grocery store on your iPhone, iPad, or iPod Touch (auto-focus capable device required).  All coupon barcode formats (Databar, UPC, and UPC+Code128) are supported."
This is great for catalinas, blinkies and other coupons that may state "Do Not Double" so you can know before heading to the register  if it will double when scanned! Keep in mind that most stores state in their policies that they don't have to double/triple DND coupons, but  many stores simply scan them and what happens, happens.That is where this app is great!
Thanks Moola Saving Mom!!