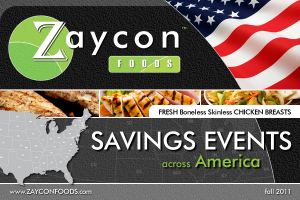 Heads up – Zaycon Foods will be announcing an event in the Hampton Roads area of VA on October 19th.  What will the price per lb be?
Wait for it…
$1.49lb for 100% All-Natural Chicken Breasts!
You will only have 3 days to purchase or while supplies last.
The chicken is sold in a 40lb case, so you will pay about $59.60 for the case.  Yes, that is a lot of money to shell out at one time.  However, you will have 100% All-Natural with no added hormones, additives or artificial ingredients to feed your family for quite awhile.
You could also consider splitting the case with a friend.  The case of chicken is split into four 10-lb bags, so sharing the case will be easy.
You can read my review of Zaycon Foods to learn more about the company and product.  Make sure to sign-up now so you are ready when the Event opens.