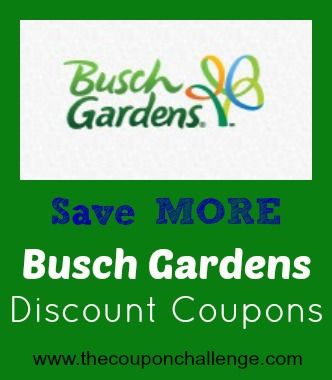 There are several Busch Gardens Discount Coupons available right now!  Make sure to order online to get the best price and to save time at the gate!
Busch Gardens Discount Coupons
Busch Gardens Williamsburg Coupons:
 Busch Gardens Williamsburg fun card Discounts:
Busch Garden Williamsbug Seasons Pass Offers:
Season Pass Holders get FREE parking (a savings of $15 per visit),  10% beverage and retail purchase discount & a discount on Christmas Town tickets.  You can also choose to pay monthly over 12 months instead of making a one-time payment.
Busch Gardens Tampa Coupons:
Follow this link and get $10-$52 savings on advance ticket purchase with freebies included. Exclusions may apply. Limited time offer.
Don't forget about the Free Busch Gardens Preschool Pass for children ages 3-5 and Free Admission for Military to Busch Gardens & More Parks}
Have you found other Busch Gardens Discount Coupons?  Please share with us!
You might also like Busch Gardens Halloween Coupons & Busch Gardens Christmas Town Coupons