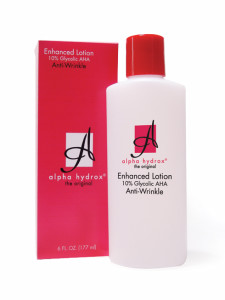 I was excited to try Alpha Hydrox Enhanced Lotion 10% Glycolic AHA.  I am 40 years old and I have been told I look younger than my age, but I do have frown lines between my brows (which I hate) and the start of fine lines around my eyes. Each time I try a new product I am hopeful the promises made to me on the packaging will work.
I have tried numerous products purchased from drug stores. I have not tried any expensive department store products, as they are out of my price range. My main complaint with most of these products is they cause me to break out, even the ones that claim they are non-comedogenic meaning they will not block my pores and cause pimples.
I started using Alpha Hydrox Enhanced Lotion 10% Glycolic AHA about three weeks ago. A warning on the bottle says to do a patch test below the ear for 2-4 days and that temporary slight tingling, stinging or redness is normal. I decided to forgo the patch test as I had already been using a 14 % Glycolic AHA which did cause stinging. I figured I was accustomed to stinging. I was pleasantly surprised. I had absolutely no stinging or redness and I was able to use it both in the morning and evening.  I'm not sure if I would have experienced stinging had I not used a glycolic AHA before, so I would recommend doing the patch test as instructed.
I am very happy to report I have not had a breakout while using the product. In fact my skin is clearer than before I started using the lotion, which is surprising considering my history of  developing at least some acne in the spring as the temperatures heat up.  As for my frown lines and fine lines around the eyes, I have seen an improvement. I still have the frown lines but I think they are diminished as are the small lines around my eyes. My skin looks clearer, brighter, and a little younger than before I started using the lotion which makes me very happy.
I am also very happy with the price of the lotion.  As of publication time it is  priced at 10.99 for a 6 oz. bottle on their website.
Alpha Hydrox is manufactured by Neoteric Cosmetics and are based in Denver, CO. Their twitter and facebook pages can be found at:
http://twitter.com/alphahydrox
https://www.facebook.com/AlphaHydrox