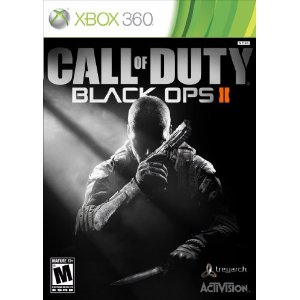 LAST DAY to Pre-Order!  I don't think you get all the extra's after the release date.
You can pre-order Call of Duty: Black Ops II (With Amazon Instant Video Credit)
on Amazon right now for $59 shipped. This is supposed to be one of the most popular games this year.  You will get the Pre-order Price Guarantee – Order now and if the Amazon.com price decreases between your order time and the end of the day of the release date, you'll receive the lowest price.
In Addition to the Game, you will receive:
Amazon Exclusive Pre-order Bonuses, Free Nuketown 2025 Bonus Map, and Access to Double XP Weekend
Pre-order any edition of Call of Duty®: Black Ops II and get: (1) A $5 Amazon Instant Video Credit. (2) The Amazon exclusive Kindle backstory, Rightful King, on villain Raul Menendez. A free Kindle Reading App can be downloaded here. (3) Nuketown 2025 bonus map. (4) Access to Call of Duty®: Black Ops II Double XP Opening Weekend, November 16th – November 18th. (5) The Amazon exclusive Call of Duty®: Black Ops II Wallpaper. The Nuketown 2025 content will be available in the product packaging. You must download Nuketown 2025 to get access to the Double XP Weekend.
This item will be released on November 13, 2012
An all-new Call of Duty – Black Ops storyline featuring new characters and returning characters
Unique single-player campaign that contains two time periods linked by characters and their actions
Special Strike Force missions, in which the players action affect the outcome of gameplay and the overall campaign
Variety of multiplayer modes and play options
Your order will qualify for FREE shipping with Super Saver Shipping on orders over $25 or with Amazon Prime.
Product prices and availability are accurate as of the date/time indicated and are subject to change. Any price and availability information displayed on amazon.com at the time of purchase will apply to the purchase of this product.