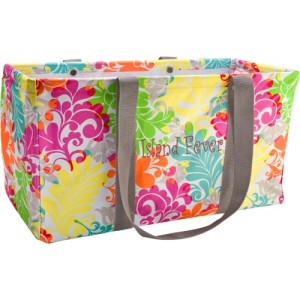 There is a Thirty-One Outlet Sale starting April 26th at 6 am EST and ends at April 28th at 11:59pm EST! This is a great time to get birthday gifts for the next year, end of school teacher gifts or even add to your gift closet. Most items can be personalized with names, sayings or even icons like ballet shoes, football and more. They really make the perfect gift!
If you are new to Thirty-One, they offer storage solutions for your home, car and life along with stylish purses and handbags and every day use items like wall organizers. My absolute FAVORITE Thirty-One item…and the first one I purchased was the Hang-Up Home Organizer!!
It should be noted that all items are WHILE SUPPLIES LAST and will ship the week of May 7th.
The site may be a little slow so please be patient.
The sale ends April 28th at 11:59pm EST.
Plus don't forget you can get one of the April Monthly Specials for every $35 you spend!
All items are as supplies last so please be aware that if an item is in your cart but not paid the item could go out of stock.
As items run out Thirty-One may continue to add new items to the sale. They are hoping to sell all their extra inventory! So check back if you don't see something you like.
Think ahead to next Christmas and teacher gifts in the Spring/Summer.