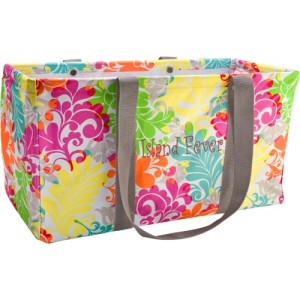 There is a Thirty-One Outlet Sale going on right now and it runs until January 14th! That's right…it's a 4 week Outlet sale and new items will be added each week! So if you don't see something that you like, check back each Monday and see what they have added.
This is a great time to get birthday gifts for the next year, end of school teacher gifts or even add to your gift closet. Most items can be personalized with names, sayings or even icons like ballet shoes, football and more. They really make the perfect gift!
FINAL WEEK – Week FOUR (January 8th) Items may include:
Daring Abbey
Townsfair Reversible Tote
Medium Utility Tote
Medium Stand Tall Insert
Fashion Week
Your Way Bin
and more!

Here are some things you should know about the Thirty-One Gifts Outlet Sale:
All items are as supplies last so please be aware that if an item is in your cart but not paid the item could go out of stock. Once you place an order, pay and get a confirmation number you should be okay!
Every Monday Thirty-One Gifts will add new items to the sale. They are hoping to sell all their extra inventory! So check back if you don't see something you like.
Think ahead to next Christmas and teacher gifts in the Spring/Summer.
All Outlet Sale Items are FINAL SALE. They can not be returned or exchanged.
Shipping/Delivery will be approximately TWO weeks from order date. 
Starting December 12th the Celebrate YOU Collection becomes available and you can enjoy 40% off regular prices on these special items. Some may be in the new Spring catalog and some are oldies that have come back for a limited time. Each item is 40% off and offered in limited prints.
The Celebrate YOU Collection is available at 40% off through January 14th.
Starting December 18th Thirty-One will post NEW Outlet Sale items on the website. These items will be offered at deep discounts and will be on the website until they are sold out. Each Monday Thirty-One will add MORE new Outlet Sale items on the website. All the way until January 14th!
All Celebrate YOU Collection and Outlet Sale items qualify for the customer specials. So you can stock up on Outlet Sale items and Celebrate YOU Collection items and still earn your customer specials for the month!

January Customer Specials run December 30th through January 31st and you can grab any TWO specials for every $35 spent include the following:
Your Way Rectangle – $10
Your Way Display Bin – $12
Your Way Cube – $15