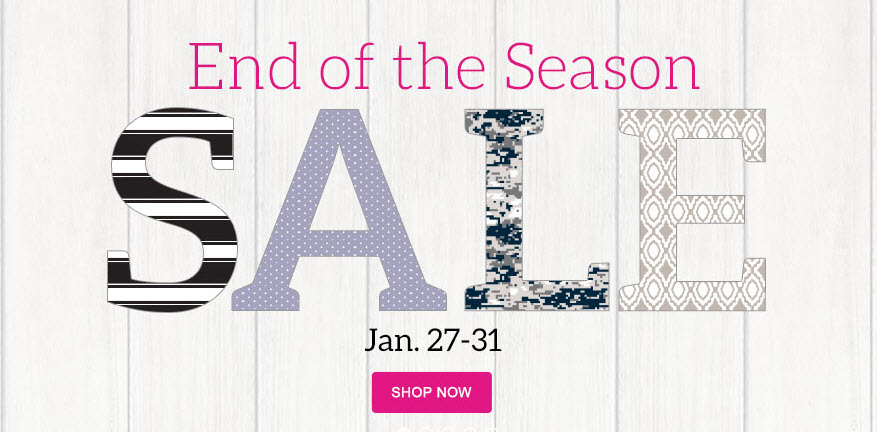 There is a Thirty-One End of Season Sale going on right now and ends at January 31st at 11:59pm EST! This is is on select items that are retiring as of February 1st, so now through January 31st you can save up to 50% off select retiring products! Get them while supplies are still available AND at an awesome price! It's a great time to get birthday gifts for the next year, end of school teacher gifts or even add to your gift closet. Most items can be personalized with names, sayings or even icons like ballet shoes, football and more. They really make the perfect gift!
PLUS you can purchase TWO Spring products that are in the new catalog…NOW! that's right, you don't have to wait until February 1st to snag one of these great items.
And on top of all these savings and specials, don't forget there is a Customer Special this month. For every $35 you spend, you can grab a Tall Organizing Tote for only $10!! If you spend $70, you can purchase TWO for $10 each, spend $105 you can purchase THREE for $10 each, etc.

Now here are some notes about the Thirty-One End of Season Sale.
The End of Season ends at January 31, 2017 at 11:59 pm EST and while supplies last.
All orders usually will ship within two weeks. However, please remember that with high demand some orders may take longer.
All items count towards this month's Customer Special! So for every $35 spent you can purchase one of the monthly special!
All retirement items are as supplies last so please be aware that if an item is in your cart but not paid the item could go out of stock.
Think ahead to next Christmas and teacher gifts in the Spring/Summer.
Interested in becoming a Thirty-One Consultant? You can join for as a little as $31  and receive these products to help jump start your business!