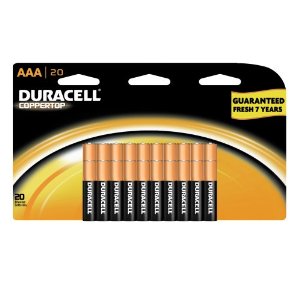 Need batteries?
Amazon is offering Duracell AAA Alkaline Batteries, 20 Count
for just $9.20 shipped. That's about 46¢ per battery.  The deal keeps switching from $9.20 with FREE shipping to around $4.21 with $4.99 shipping.  You'll pay roughly the same either way.  The 16-pk at Walmart sells for around $10.98, so this is a good price either way.
Don't forget that you can also get the Duracell 20-pk batteries for a penny after MaxPerk Rewards if you don't mind paying the full $16.99 out-of-pocket.
Product prices and availability are accurate as of the date/time indicated and are subject to change. Any price and availability information displayed on amazon.com at the time of purchase will apply to the purchase of this product.
Thanks, I Heart the Mart!