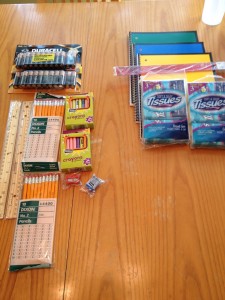 Since my site decided to go down all day today, I didn't make it to Farm Fresh.  I might try to run up there this evening if I have time.  I wanted to share my latest Office Depot and Office Max shopping trips from Monday.
I picked up the penny deals at Office Depot this week.  I purchased 3 notebooks, 1 ruler and 2 tissue packs for$1.09 total.  They were sold out of the pencil pouches and more rulers.
I also went to Office Max for the 10¢ pencil deal and batteries.  My purchase was eligible for the FREE school supplies which will be great for a donation. I paid $35.89 and will get back $33.96 in MaxPerk Rewards.
Office Max Battery Deal
Office Max has a great promotion this week on batteries! Pay just 1¢ each after MaxPerk Rewards on Duracell Coppertop AA or AAA Batteries (20-pk). We can definitely go through batteries in my house!  Toys, and electronics seem to suck up battery life.
Sign up for Max Perk Rewards to take advantage of this special offer.  You will get the money back in Max Perk Rewards to pay for another Office Max purchase.
Buy 20-pk Duracell AA or AAA Batteries @ $16.99 each (Limit 2)
Pay $16.99 plus tax at checkout
Earn $16.98 in MaxPerk Bonus Rewards
Final: 1¢ each after MaxPerk Rewards
Offer is valid in-store and online.  Shipping is FREE with purchases of $50 or more.  You MUST present your MaxPerk Card for this offer!
*Bonus Rewards for these offers, along with any other rewards a member may have earned during the same period, will be issued in the next statement cycle in the form of a Reward Card redeemable toward future purchases at OfficeMax®. Reward Cards expire 90 days from date of issuance, except in Florida where they expire one (1) year from date of issuance.