Reminder:
Get ready for last minute Holiday shopping with Amazon!  The following is Amazon Price Ordering Cutoff Dates:
12/19 FREE No Rush Delivery Restrictions apply*
12/20 FREE Two-Day Shipping & Last full day to order
12/21 FREE Two-Day Shipping Order as late as 7 p.m. EST / 4 p.m. PST (varies by item)
One-Day Shipping (as low as $3.99) & Last full day to order
12/22 One-Day Shipping (as low as $3.99) Order as late as 3 p.m. EST / 12 p.m. PST (varies by item)
12/24 Local Express Delivery (as low as $3.99/item) While available (select cities, varies by item)**
12/25 Last-Minute Gift Cards:  E-mail and printable gift cards can be sent immediately, at any time
*FREE No Rush Delivery is available for Amazon Prime members only with limited availability.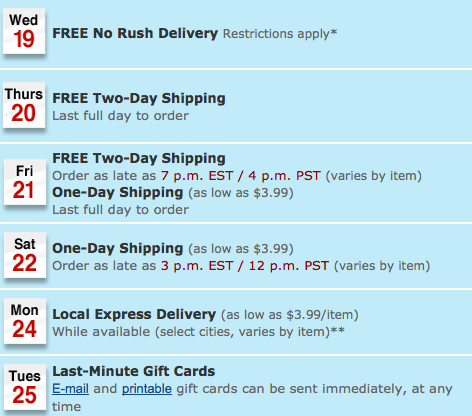 How to Qualify for This Offer:
Add at least $50 of qualifying items offered in the Amazon.com Store to your Shopping Cart and select the "No-Rush Delivery" Shipping option prior to completing the purchase.
Upon shipment of your item, you will receive an e-mail indicating that a $3 credit for Amazon Instant Video has been applied to your account automatically. The e-mail will also provide instructions on how to redeem your credit.
Promotional offer is valid from November 15, 2012, through December 15, 2012, and subject to change. You must redeem the credit by January 31, 2013. See terms and conditions below
See all the Amazon deals I've posted to help you save!