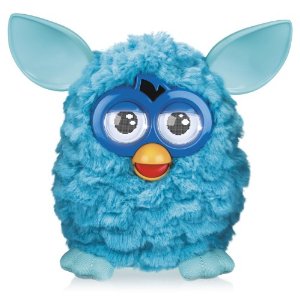 HURRY!  It's Back at $54!  Price had gone up to $79!
One of the popular toys this year is the Furby – why, I don't know.
Amazon has the Furby, Teal
on sale for $54 shipped – was $59.99! Now, I realize this isn't a great sale; however, this is the TEAL Furby. According to Walmart, this is the most popular color. The Teal Furby was even sold out on the Target and Walmart websites.  It's crazy!
*Walmart will have Furby's on sale for $45 on Black Friday (in-store ONLY). If this is the color you want, it may be worth it to purchase on Amazon now. You may be able to get your choice on Black Friday, you just don't ever know.
Furby responds to your voice and to music
Pet Furby's head, tickle its tummy, or pull its tail and see what happens
Feed Furby with your finger
App is optional and works with iPad, iPod touch and iPhone with iOS 4.2 or later
Includes 1 Furby and instructions
Your order will qualify for FREE shipping with Super Saver Shipping on orders over $25 or with Amazon Prime.
*Update* I was also checked in my local Target last night and all the Teal Fubry's were sold out plus they only had about 5 total Furby's in-store.
Product prices and availability are accurate as of the date/time indicated and are subject to change. Any price and availability information displayed on amazon.com at the time of purchase will apply to the purchase of this product.