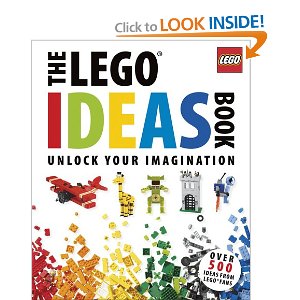 Do you have a Lego King?
I think my son would enjoy this The LEGO Ideas Book
for $14 (was $24.99!)  While I'm all about the imagination that playing with Lego's brings, my son enjoys following the "blueprints" for Lego buildings and figures.  Hey, maybe he'll grow up to be an engineer or architect 🙂
You have what it takes! Did you ever wonder what you can do with all of those LEGO® bricks after you have created the project they came with?

Now with The LEGO Ideas Book, you can take what you already have and make something new! The book is divided into six themed chapters—transportation, buildings, space, kingdoms, adventure, and useful makes—each with basic templates of key models and spreads to inspire you to create your own.

Hints and tips from Master Builders can help you turn your classic car into a race car or add a bridge to your castle! Don't be concerned if you haven't got all the bricks you need: this book also shows how to simplify details, making this a great user-friendly guide for any building ability.

Featuring all-new LEGO® building projects, tips to supplement and enhance your LEGO creations, inspirational builds, and expert advice from LEGO Master Builders, The LEGO Ideas Book will keep kids of all ages creating for hours.
Your order will qualify for FREE shipping with Super Saver Shipping on orders over $25 or with Amazon Prime.
Product prices and availability are accurate as of the date/time indicated and are subject to change. Any price and availability information displayed on amazon.com at the time of purchase will apply to the purchase of this product.