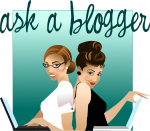 Thanks to Amee with Madame Deals for sharing this weeks Ask a Blogger post. I have Google Friend Connect on my site, but I don't focus on it much.  After moving over to WordPress and losing all my GFC followers, I lost interest.
I had a melt down this week over Google Connect friends will end in March.  I had over 3,000 readers. Oh my!  What should I do.
Since you can now have a business page on Google plus, I built one. I used this link to do so Google Business.  I then wanted to find out more, so I visited this forum to read up on the new pages at the Google Ad Forum. Then I went and created a short link to my page at Google's Short link creator. I didn't want to have all those numbers everywhere! I then added the button to my website to join my site. Please join I promise I will learn how to use it Google Plus Madame Deals.
The last step was adding the +1 to all my posts. I used this Google +1 Button. The final step will be making myself get off of Facebook and Twitter long enough to figure out how to get this all working . I figure after the holiday I will go online and learn how it works! I wanted to make sure I had a plan to replace GCF.
You can follow The Coupon Challenge on Google Plus here
You can search all of our articles by typing in Ask A Blogger.