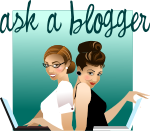 We've talked about Facebook and Twitter as necessary tools to promote your blog and to connect with readers.  Since we know you didn't have enough to keep up with,  Google + is the new "must have" in Social Media.  While Google + is still in it's early stages; I would venture to guess that if will eventually become just as popular (if not more so) as Facebook and Twitter.
How to Use Google +
In order to get a Google + profile, you need to set up a Google account if you don't already have one.
Once you have set up your profile.  Start adding people to connect with on Google +.  Look for "suggestions" on the right sidebar to see people that you have previously connected with on Google such as via Gmail.  If you need to learn more about a person before adding them, you can click on their profile photo box.  Information will be displayed to you based on the privacy setting they have selected.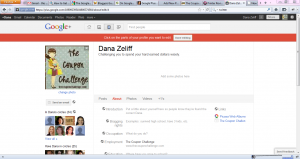 Once you find people you would like to connect with on Google +, you can add them to your Circles.  Your connections are grouped by Circles to assist in separating the people you would like to share information with.  I have deleted the default "acquaintances" circle.  It wasn't relevant to me or my goals for Google +.  I have added a new circle titled "bloggers" to keep up with what fellow bloggers are doing.  Since I'm just getting started with google +, I am only grouping my connections into "Family", "Friends" and "Bloggers."  I'm sure I'll add more circle as I go along, but this works well for me right now.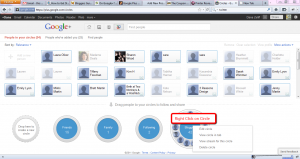 If you're looking to delete or manager your circles, simply go to "Google+ Setting", click on "Profile and Privacy" and scroll down to "Manage Circle."  You can also access this page by clicking on the "Circle Icon" located to the left on the search box on your home page.  From there you can right click on one of the Circles on the bottom of you page.  You will also be able to move people between circles and new suggestions from this page.
It is worth noting that when you add someone to one of your Circles, they will be notified that you have added them; however, the  name of the circle you added them to will not be shown.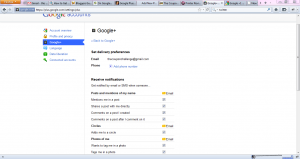 You can set your email preference by going to your Google + settings and clicking on "Google +".  Here you can select your email notifications to alert you when someone adds you to a circle, comments on your post, tags you in a photo and more.
You can also grab your Profile link from the Profile and Privacy settings page.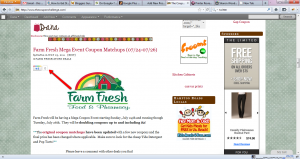 Lastly, I wanted to mention Google +1.  You have likely seen an icon pop up on websites similar to the Facebook Like and Tweet icons.  This is a handy tool to show you like a post. According to Google+, "Click +1 to publicly give something your stamp of approval. Your +1's can help friends, contacts, and others on the web find the best stuff when they search".
Get started with Google + now and don't forget to click the +1 icon on this post 🙂
Watch the Google + Demo video to learn more
Want to connect with us?
The Coupon Challenge: https://profiles.google.com/109092395184800374564
Madame Deals: https://plus.google.com/101381945682665962704